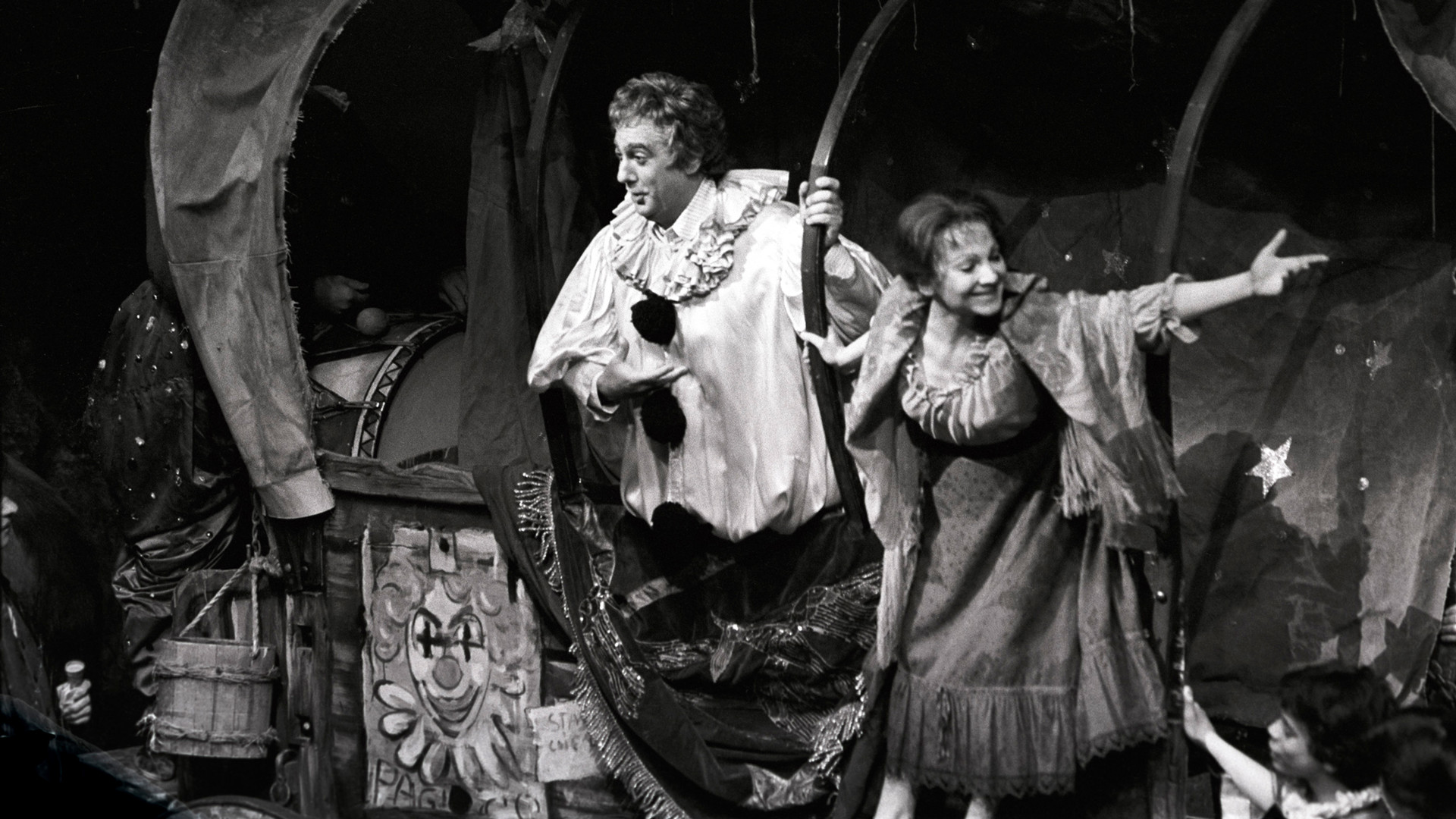 Cavalleria Rusticana / Pagliacci
Сельская честь / Паяцы
This video captures a real rarity: one of the very few times the brilliant Plácido Domingo performed both of the great tenors roles during the same evening at the Met. Domingo singing either Turiddu (in Cavalleria) or Canio (in Pagliacci) would be remarkable, but to get both in the same incandescent performance is to see history. With James Levine's passionate conducting, Franco Zeffirelli's iconic production, and the sensational singing actors Tatiana Troyanos (Santuzza), Teresa Stratas (Nedda), and Sherrill Milnes (Tonio), these searing one-act operas blaze.
Actors
Crew
CAVALLERIA RUSTICANA


A village in Sicily, circa 1900. At dawn on Easter Sunday, Turiddu sings in the distance of his love for Lola, wife of the carter Alfio. She and Turiddu had been a couple before he joined the army. When he returned and found her married to Alfio, he seduced Santuzza but now has abandoned her and rekindled his relationship with Lola. Later in the morning, a distraught Santuzza approaches the tavern of Mamma Lucia, Turiddu's mother, who tells her that her son is away buying wine. But Santuzza knows that Turiddu has been seen during the night in the village. Alfio arrives with a group of men, boasting of his horses—and of Lola. He asks Mamma Lucia if she has any more of her good wine. When she says that Turiddu has gone to get more, Alfio replies that he saw him near his house that same morning. Lucia is surprised, but Santuzza tells her to keep quiet. As the villagers follow the procession to church, Santuzza stays behind and pours out her grief about Turiddu to Mamma Lucia. The old woman expresses her pity, then also leaves for Mass. Turiddu arrives in the piazza. When Santuzza confronts him about his affair with Lola, he denies her accusations. Just then Lola passes by on her way to church. She mocks Santuzza, and Turiddu turns to follow her. Santuzza begs him to stay and implores him not to abandon her. Refusing to listen, Turiddu leaves, and Santuzza curses him. Alfio appears, late for Mass. Santuzza tells him that Lola went to church with Turiddu and reveals that she has been cheating on him. In a rage, Alfio swears to get even and rushes off, leaving behind the now conscience-stricken Santuzza.

Returning from the church the villagers gather at Mamma Lucia's tavern. Turiddu leads them in a drinking song, but the atmosphere becomes tense when Alfio appears. He refuses Turiddu's offer of wine and instead challenges him to a knife fight. Turiddu admits his guilt but is determined to go through with the fight, for Santuzza's sake as well as for his honor. The two men agree to meet outside the village. Alone with his mother, Turiddu begs her to take care of Santuzza if he doesn't come back, then runs off to the fight. As Mamma Lucia waits anxiously, shouts are heard in the distance. A woman runs in screaming that Turiddu has been killed.
PAGLIACCI


PROLOGUE


Tonio the clown announces that what the audience is about to see is a true story and that actors have the same joys and sorrows as other people.
ACT I


The same Sicilian village, 1949. A small theatrical company has just arrived and Canio, the head of the troupe, advertises the night's performance to the gathered crowd. One of the villagers suggests that Tonio is secretly courting Canio's young wife, Nedda. Canio warns them all that he will not tolerate any flirting offstage—life and theater are not the same. As the crowd disperses, Nedda is left alone, disturbed by her husband's jealousy. She looks up to the sky, envying the birds their freedom. Tonio appears and tries to force himself on Nedda, but she beats him back, and he retreats, swearing revenge. In fact, Nedda does have a lover—Silvio, a young peasant, who suddenly appears. The two reaffirm their love, and Silvio persuades Nedda to run away with him that night. Tonio, who has returned and overheard the end of their conversation, alerts Canio, but Silvio manages to slip away unrecognized. Canio violently threatens Nedda, but she refuses to reveal her lover's name. Beppe, another member of the troupe, restrains Canio, and Tonio advises him to wait until the evening's performance to catch the culprit. Alone, Canio gives in to his despair—he must play the clown even though his heart is breaking.
ACT II


That evening, the villagers assemble to watch the performance, Silvio among them. Beppe plays Harlequin, who serenades Columbine, played by Nedda. He dismisses her buffoonish servant Taddeo, played by Tonio, and over dinner the two sweethearts plot to poison Columbine's husband Pagliaccio, played by Canio. When Pagliaccio unexpectedly appears, Harlequin slips away. Taddeo maliciously assures Pagliaccio of his wife's innocence, which ignites Canio's jealousy. Forgetting his role and the play, he demands that Nedda tell him the name of her lover. She tries to continue with the performance, the audience enthralled by its realism, until Canio snaps. In a fit of rage he stabs Nedda and then Silvio, who rushes to her aid. Turning to the horrified crowd, Tonio announces that the comedy is over.